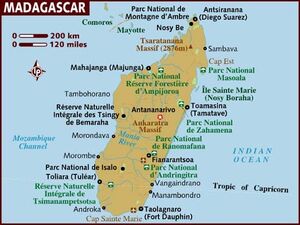 A 226,658 square mile (587,040 square kilometer) island found off the east coast of Africa, Madagascar is home to an enormous variety of plants, animals, and ecosystems. It also has a variety of people, an interesting history, and a geography like no other. This unique piece of land has been the source of inspiration for movies like DreamWorks Madagascar and Madagascar: Escape 2 Africa which are helpful to the island's tourism and keep outside people interested in and aware of what's going on within the country. Take some time to investigate the growing tourism, many animals, unique geography, biome, indigenous people, and defining history of Madagascar.
Ad blocker interference detected!
Wikia is a free-to-use site that makes money from advertising. We have a modified experience for viewers using ad blockers

Wikia is not accessible if you've made further modifications. Remove the custom ad blocker rule(s) and the page will load as expected.